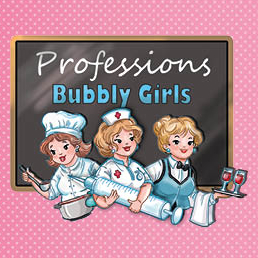 Yvonne Creations - Bubbly Girls - Professions
Voor deze collectie gingen de dames hard aan het werk en het is duidelijk dat ze daar veel plezier in hebben. Of ze nu voor de klas staan, in de zorg, de schoonheidsbranche of de horeca werken, het maakt allemaal niet uit. Juist het personeel in deze branches heeft het flink voor de kiezen gekregen, maar met deze materialen kun je eenvoudig iemand een hart onder de riem steken.
En hoe spannend… de collectie heet dan wel Bubbly Girls, maar we zien ook mannen! En selectie van de genoemde beroepen heeft een extra knipvel gekregen waarin de Big Guys aan het werk zijn gezet.